Archaeology, Climate and Environment Today
The Glacier Archaeology Program
The multi-award-winning SCAPE Trust was established in 2000 with a mission to engage the public in the archaeology, history and past environments of Scotland's coast. SCAPE works very closely with University of St Andrews and Historic Environment Scotland to achieve this.
Local volunteering is at the heart of SCAPE's work in collecting the data that tells us where and how Scotland's heritage is being impacted by coastal processes, and how climate change may affect this in the future.
Since 2012, SCAPE's Scotland's Coastal Heritage at Risk Project, has worked with volunteers to identify and monitor the most vulnerable and significant coastal archaeological sites in Scotland. Community projects at some of these have rescued information and created new interpretation resources.
The cranium of an unlucky packhorse that did not make it across the ice. Photo: Espen Finstad, secretsoftheice.com.
Coastal and Intertidal Zone Archaeological Network (CITiZAN)
CITiZAN is an award-winning community-led MOLA project which aims to tackle the problem of coastal erosion on foreshore and intertidal archaeological sites.
The broad themes studied by CITiZAN are Nautical Archaeology, Coastal Defences, Coastal Industries, Lost Settlements and Lost Landscapes all of which are under constant threat from under constant threat from wind, waves and storms.
Obviously, CITiZAN cannot record all of the threatened sites on over 6,500 miles of the English coastline, so there are currently six Discovery programmes: Liverpool Bay, South Devon Rivers, Solent Harbours, Humberside, Mersea Island, and East Kent Coast. By providing resources and training programmes, CITiZAN is able to mobilise an army of volunteers to record threatened sites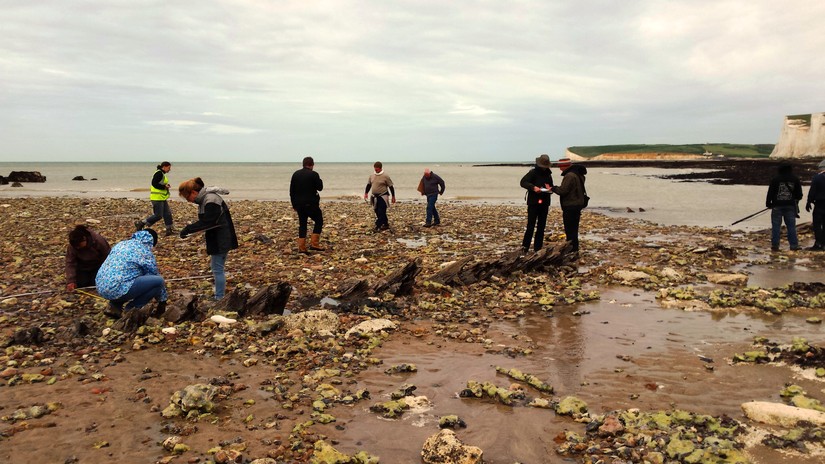 Scottish Coastal Archaeology and the Problem of Erosion (SCAPE)
In 1996 Historic Scotland, as it was then, commissioned a series of coastal zone assessment surveys which recorded all archaeological sites as well as the geology, geomorphology and erosion class.
In 2000, Historic Environment Scotland asked Tom Dawson from the University of St Andrews School of History to take over the management of the coastal surveys. Together with Historic Environment Scotland, Dawson established the SCAPE Trust (Scottish Coastal Archaeology and the Problem of Erosion), a charity set up to research and promote the archaeology of Scotland's coast.
SCAPE manages a community project called Shorewatch which encourages and assists local communities to locate, record and monitor archaeological sites around Scotland's coast.
A community excavation of a complex Bronze Age burnt mound eroding on a beach in Sanday, Orkney